For GE Stove Range Oven Wire Rack Part Number # RP0585665PAZ694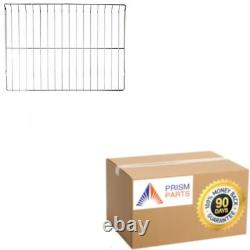 For GE Stove Range Oven Wire Rack Part Number # RP0585665PAZ694. Fits the following models and some others. Use CTRL F to search for yours. JGSS05DEM2BB JGSS05DEM3BB JGSS05DEM4BB JGSS05DEMB JGSS05GEN1 JGSS05GER1 JGSS05GER2 JGSS05GER3 JGSS05GER4 JGSS05GER5 JGSS05GES1 JGSS05GEV1BB JGSS05GEV3BB JS250DF1BB JS250DF1CC JS250DF1WW JS250DF2BB JS250DF2CC JS250DF2WW JS250DF3WW JS250RF1SS JS250RF2SS JS250RF3SS JS630DF1BB JS630DF1CC JS630DF1WW JS630DF2BB JS630DF2CC JS630DF2WW JS630DF3BB JS630DF3CC JS630DF3WW JS630DF4BB JS630DF4CC JS630DF4WW JS630DF5BB JS630DF5CC JS630DF5WW JS630SF1SS JS630SF2SS JS630SF3SS JS630SF4SS JS630SF5SS JS900BK1BB JS900BK2BB JS900BK3BB JS900BK4BB JS900BKB JS900CK1CC JS900CK2CC JS900CK3CC JS900CK4CC JS900CKC JS900SK1SS JS900SK2SS JS900SK3SS JS900SK4SS JS900SK5SS JS900SKS JS900WK1WW JS900WK2WW JS900WK3WW JS900WK4WW JS900WKW JSP39BK1BB JSP39BK2BB JSP39BK3BB JSP39BK4BB JSP39BK5BB JSP39BKB JSP39CK1CC JSP39CK2CC JSP39CK3CC JSP39CK4CC JSP39CK5CC JSP39CKC JSP39DN1BB JSP39DN1CC JSP39DN1WW JSP39DN2BB JSP39DN2CC JSP39DN2WW JSP39DN3BB JSP39DN3CC JSP39DN3WW JSP39DN4BB JSP39DN4CC JSP39DN4WW JSP39SK1SS JSP39SK2SS JSP39SK3SS JSP39SK4SS JSP39SK5SS JSP39SKS JSP39SN1SS JSP39SN2SS JSP39SN3SS JSP39SN4SS JSP39SN5SS JSP39WK1WW JSP39WK2WW JSP39WK3WW JSP39WK4WW JSP39WK5WW JSP39WKW JSP42BK1BB JSP42BK2BB JSP42BK3BB JSP42BK4BB JSP42BK5BB JSP42BKB JSP42CK1CC JSP42CK2CC JSP42CK3CC JSP42CK4CC JSP42CK5CC JSP42CKC JSP42DN1BB JSP42DN1CC JSP42DN1WW JSP42DN2BB JSP42DN2CC JSP42DN2WW JSP42DN3BB JSP42DN3CC JSP42DN3WW JSP42DN4BB JSP42DN4CC JSP42DN4WW JSP42SK1SS JSP42SK2SS JSP42SK3SS JSP42SK4SS JSP42SK5SS JSP42SKS JSP42SN1SS JSP42SN2SS JSP42SN3SS JSP42SN4SS JSP42WK1WW JSP42WK2WW JSP42WK3WW JSP42WK4WW JSP42WK5WW JSP42WKW JSP46BD2BB JSP46CD2CC JSP46WD2WW JSP47BF1BB JSP47BF2BB JSP47BF3BB JSP47BF4BB JSP47BF5BB JSP47BF6BB JSP47CF1CC JSP47CF2CC JSP47CF3CC JSP47CF4CC JSP47CF5CC JSP47CF6CC JSP47SH1SS JSP47SH2SS JSP47SH3SS JSP47WF1WW JSP47WF2WW JSP47WF3WW JSP47WF4WW JSP47WF5WW JSP47WF6WW JSS28BK1BB JSS28BK2BB JSS28BK3BB JSS28BK4BB JSS28BKB JSS28CK1CC JSS28CK2CC JSS28CK3CC JSS28CK4CC JSS28CKC JSS28DF1BB JSS28DF1WW JSS28DN1BB JSS28DN1CC JSS28DN1WW JSS28DN2BB JSS28DN2CC JSS28DN2WW JSS28DN3BB JSS28DN3CC JSS28DN3WW JSS28WK1WW JSS28WK2WW JSS28WK3WW JSS28WK4WW JSS28WKW JT915BF6BB JT915BF7BB JT915BF8BB JT915CF6CC JT915CF7CC JT915CF8CC JT915SK3SS JT915SK4SS JT915SK5SS JT915SKS JT915WF6WW JT915WF7WW JT915WF8WW JT950AA1AA JT950AA2AA JT950AA3AA JT950AA4AA JT950BA1BB JT950BA2BB JT950BA3BB JT950BA4BB JT950CA1CC JT950CA2CC JT950CA3CC JT950CA4CC JT950SA1SS JT950SA2SS JT950SA3SS JT950SA4SS JT950SA5SS JT950SY1SS JT950WA1WW JT950WA2WW JT950WA3WW JT950WA4WW JTP13GT1BB JTP13GV1BB JTP13GV2BB JTP14WT1WW JTP14WV1WW JTP14WV2WW JTP15AA1AA JTP15AA2AA JTP15AA3AA JTP15AA4AA JTP15AA5AA JTP15AD1AA JTP15BA1BB JTP15BA2BB JTP15BA3BB JTP15BA4BB JTP15BA5BB JTP15BD1BB JTP15BW1BB JTP15BW2BB JTP15BW3BB JTP15CD1CC JTP15SD1SS JTP15WA1WW JTP15WA2WW JTP15WA3WW JTP15WA4WW JTP15WA5WW JTP15WD1WW JTP15WW1WW JTP15WW2WW JTP15WW3WW JTP17SC1SS JTP17SC2SS JTP17SC3SS JTP20BF1BB JTP20BF2BB JTP20BF3BB JTP20BF5BB JTP20BF6BB JTP20BF7BB JTP20BFB JTP20CF1CC JTP20CF2CC JTP20CF3CC JTP20CF5CC JTP20CF6CC JTP20CF7CC JTP20CFC JTP20SF1SS JTP20SF2SS JTP20SF3SS JTP20SF4SS JTP20SF5SS JTP20SF6SS JTP20WF1WW JTP20WF2WW JTP20WF3WW JTP20WF5WW JTP20WF6WW JTP20WF7WW JTP20WFW JTP25SH1SS JTP25SH2SS JTP25SH3SS JTP25SH4SS JTP25SH5SS JTP25SH6SS JTP25SHS JTP26GV1BB JTP26GV2BB JTP27BA1BB JTP27BA2BB JTP27BA3BB JTP27BA4BB JTP27BA5BB JTP27BD1BB JTP27BW1BB JTP27BW2BB JTP27BW3BB JTP27WA1WW JTP27WA2WW JTP27WA3WW JTP27WA4WW JTP27WA5WW JTP27WD1WW JTP27WV1WW JTP27WV2WW JTP27WW1WW JTP27WW2WW JTP27WW3WW JTP28BF1BB JTP28BF2BB JTP28BF3BB JTP28BF4BB JTP28BF5BB JTP28BF6BB JTP28BF7BB JTP28BFB JTP28CF1CC JTP28CF2CC JTP28CF3CC JTP28CF4CC JTP28CF5CC JTP28CF6CC JTP28CF7CC JTP28CFC JTP28SF1SS JTP28SF2SS JTP28SF3SS JTP28SF4SS JTP28SK1SS JTP28SK2SS JTP28SK3SS JTP28SKS JTP28WF1WW JTP28WF2WW JTP28WF3WW JTP28WF4WW JTP28WF5WW JTP28WF6WW JTP28WF7WW JTP28WFW JTP44GV1BB JTP44GV2BB JTP45BA1BB JTP45BA2BB JTP45BA3BB JTP45BA4BB JTP45BA5BB JTP45BD1BB JTP45BW1BB JTP45BW2BB JTP45BW3BB JTP45CD1CC JTP45SD1SS JTP45WA1WW JTP45WA2WW JTP45WA3WW JTP45WA4WW JTP45WA5WW JTP45WD1WW JTP45WV1WW JTP45WV2WW JTP45WW1WW JTP45WW2WW JTP45WW3WW JTP47SC1SS JTP47SC2SS JTP47SC3SS JTP48BF1BB JTP48BF2BB JTP48BF3BB JTP48BF4BB JTP48BF5BB JTP48BF6BB JTP48BF7BB JTP48BFB JTP48CF1CC JTP48CF2CC JTP48CF3CC JTP48CF4CC JTP48CF5CC JTP48CF6CC JTP48CF7CC JTP48CFC JTP48SF1SS JTP48SF2SS JTP48SF3SS JTP48SF4SS JTP48SF5SS JTP48SF6SS JTP48WF1WW JTP48WF2WW JTP48WF3WW JTP48WF4WW JTP48WF5WW JTP48WF6WW JTP48WF7WW JTP48WFW JTP50SH1SS JTP50SH2SS JTP50SH3SS JTP50SH4SS JTP50SH5SS JTP50SH6SS JTP50SHS JTP54GV1BB JTP54GV2BB JTP55WV1WW JTP55WV2WW JTP56AA1AA JTP56AA2AA JTP56AA3AA JTP56AA4AA JTP56AA5AA JTP56AV1AA JTP56AV2AA JTP56AW1AA JTP56AW1BB JTP56AW1WW JTP56AW2AA JTP56BA1BB JTP56BA2BB JTP56BA3BB JTP56BA4BB JTP56BA5BB JTP56BW1BB JTP56BW2BB JTP56WA1WW JTP56WA2WW JTP56WA3WW JTP56WA4WW JTP56WA5WW JTP56WW1WW JTP56WW2WW JTP85BA1BB JTP85BA2BB JTP85BA3BB JTP85BA4BB JTP85BA5BB JTP85BA6BB JTP85BD1BB JTP85BW1BB JTP85BW2BB JTP85WA1WW JTP85WA2WW JTP85WA3WW JTP85WA4WW JTP85WA5WW JTP85WA6WW JTP85WD1WW JTP85WW2WW JTP86BF1BB JTP86BF2BB JTP86BF3BB JTP86BF4BB JTP86BF5BB JTP86BF6BB JTP86BF7BB JTP86BFB JTP86CF1CC JTP86CF2CC JTP86CF3CC JTP86CF4CC JTP86CF5CC JTP86CF6CC JTP86CF7CC JTP86CFC JTP86SF1SS JTP86SF2SS JTP86SF3SS JTP86SFS JTP86SH1SS JTP86SH2SS JTP86SH3SS JTP86SH4SS JTP86SH5SS JTP86SH6SS JTP86SHS JTP86WF1WW JTP86WF2WW JTP86WF3WW JTP86WF4WW JTP86WF5WW JTP86WF6WW JTP86WF7WW JTP86WFW LGB116BPA1AD LGB116BPA1WH LGB116BPA5WH LGB116GPR1 LGB116GPT1AD LGB116GPT1WH LGB116GPT2AD LGB116GPT2WH LGB116GPV1AD LGB116GPV1WH LGB116GPV2AD LGB116GPV2WH LGB126BEA1AD LGB126BEA1WH LGB126GER1 LGB126GET1AD LGB126GET1WH LGB126GET2AD LGB126GET2WH LGB126GEV1AD LGB126GEV1WH LGB126GEV2AD LGB126GEV2WH LGB126GEV3AD LGB126GEV3WH LGB128PEB1WW LGB128PEB6WW LGB136GER1 LGB146BEA1AD LGB146BEA1WH LGB146BEA2AD LGB146BEA2WH LGB146GER1 LGB146GER2 LGB146GET1AD LGB146GET1WH LGB146GET2AD LGB146GET2WH LGB146GEV1AD LGB146GEV1WH LGB146GEV2AD LGB146GEV2WH LGB146GEV3AD LGB146GEV3WH LGB146GEV4AD LGB146GEV5AD LGB146GEV5WH LGB156GES1 LGB156WEA1WW LGB156WEA2WW LGB156WET1WW LGB156WET2WW LGB156WEV1WW LGB156WEV3WW LGB156WEV4WW LGB156WEV5WW LGB336GER1 LGB336GET1AD LGB336GET1WH LGB336GET2AD LGB336GET2WH LGB336GEV1AD LGB336GEV1WH LGB336GEV2AD LGB336GEV2WH LGB336GEV3AD LGB336GEV3WH LGB346SEV1AD LGB346SEV1WH LGB346SEV2AD LGB346SEV2WH LGB356BEA1AD LGB356BEA1WH LGB356BEA2AD LGB356BEA2WH LGB356GER1 LGB356GER2 LGB356GET1AD LGB356GET1WH LGB356GET2AD LGB356GET2WH LGB356GEV1AD LGB356GEV2AD LGB356GEV2WH LGB356GEV3WH LGB356WEA1WW LGB356WEA2WW LGB356WEV1WW LGB356WEV2WW LGB356WEW2WW LGB356WEW3WW LGB600GET1BC LGB600GET2BC LGB600GET3BC LGB600GET4BC MCB757DR1WW MCB757DR2WW MCB757WJ1WW MCB757WK1WW MCB757WK2WW MCB757WK3WW MCB757WK4WW MCB757WM1WW MCB757WM2WW MCB787DR1WW MCB787DR2WW MCB787WK1WW MCB787WK2WW MCB787WK3WW MCB787WK4WW MCB787WK5WW MCB787WM1WW MCB787WM2WW MCBS522K1WW MCBS522K2WW MCBS523J1WW MCBS523K1WW MCBS523K2WW MCBS523R1WW MCBS523R2WW MCBS524J1WW MCBS524J2WW MCBS524K1WW MCBS524K2WW MCBS525R1WW MCBS525R2WW MCBS526WK1WW MCBS526WK2WW MCBS585DR1WW MCBS585DR2WW MCBS585WJ1WW MCBS585WK1WW MCBS585WK2WW MCBS585WK3WW MCBS585WM1WW MCBS585WM2WW NSRNE4BWH8CA P2B912DEM1BB P2B912DEM1WW P2B912DEM2BB P2B912DEM2WW P2B912DEM3BB P2B912DEM3WW P2B912SEM1SS P2B912SEM2SS P2B912SEM3SS P2B918DEM1BB P2B918DEM1CC P2B918DEM1WW P2B918DEM2BB P2B918DEM2CC P2B918DEM2WW P2B918DEM3BB P2B918DEM3CC P2B918DEM3WW P2B918DEM4BB P2B918DEM4WW P2B918SEM1SS P2B918SEM2SS P2B918SEM3SS P2B918SEM4SS P2B930DET1BB P2B930DET1CC P2B930DET1WW P2B930SET1SS PD900DP1BB PD900DP1CC PD900DP1WW PD900DP2BB PD900DP2CC PD900DP2WW PD900DP3BB PD900DP3CC PD900DP3WW PGB900DEM1BB PGB900DEM1CC PGB900DEM1WW PGB900DEM2BB PGB900DEM2CC PGB900DEM2WW PGB900DEM3BB PGB900DEM3CC PGB900DEM3WW PGB900DEM4BB PGB900DEM4CC PGB900DEM4WW PGB900DEM5BB PGB900DEM5WW PGB900DET1BB PGB900DET1WW PGB900SEM1SS PGB900SEM2SS PGB900SEM3SS PGB900SEM4SS PGB900SEM5SS PGB900SET1SS PGB908DEM1BB PGB908DEM1CC PGB908DEM1WW PGB908DEM2BB PGB908DEM2CC PGB908DEM2WW PGB908DEM3BB PGB908DEM3CC PGB908DEM3WW PGB908DEM4BB PGB908DEM4CC PGB908DEM4WW PGB908SEM1SS PGB908SEM2SS PGB908SEM3SS PGB908SEM4SS PGB910SEM1SS PGB910SEM2SS PGB910SEM3SS PGB910SEM4SS PGB910SET1SS PGB916DEM1BB PGB916DEM1CC PGB916DEM1WW PGB916DEM2BB PGB916DEM2CC PGB916DEM2WW PGB916DEM3BB PGB916DEM3CC PGB916DEM3WW PGB916DEM4BB PGB916DEM4CC PGB916DEM4WW PGB916SEM1SS PGB916SEM2SS PGB916SEM3SS PGB916SEM4SS PGB918DEM1BB PGB918DEM1WW PGB918DEM2BB PGB918DEM2WW PGB918DEM3BB PGB918DEM3WW PGB918DEM4BB PGB918DEM4WW PGB918SEM1SS PGB918SEM2SS PGB918SEM3SS PGB918SEM4SS PGB928SEM1SS PGB928SEM2SS PGB928SEM3SS PGB928TEM1WW PGB928TEM2WW PGB935SET1SS PGB975SEM1SS PGB975SEM2SS PGB975SEM3SS PGB975SEM4SS PGBS975SEM4SS PS900DP1BB PS900DP1CC PS900DP1WW PS900DP2BB PS900DP2CC PS900DP2WW PS900SP1SS PS900SP2SS RB525BHW RB525HC RB525HW RB526HC RB526HW RB536CHC RB536WHW RB540SHS RB757BHC RB757BHW RB757CHC RB757EHB RB757WHW RB787BHB RB787CHC RB787WHW RB790BKB RB790CKC RB790SHS RB790WKW RCB757DN1WW RCB757DN2WW RCB787DN1WW RCB787DN2WW RCB787WJ5WW RCB790S-J1SA RCB790SJ4SA RCB790SJ5SA RCBS525J2WW RCBS526J2WW RCBS536DN1WW RCBS536DN2WW RCBS536WJ2WW RCBS540SJ2SA RCBS540SJ3SA RCBS787DN1WW RCBS787DN2WW RCBS787WJ4WW RGB508PEHC RGB508PEHW RGB508PPHC RGB508PPHW RGB524PEHC RGB524PEHW RGB524PPHC RGB524PPHW RGB528PEHW RGB533BEKB RGB533CEHC RGB533WEHW RGB540SEHS RGB735WELW RGB740BEHW RGB745BEHC RGB745BEHW RGB745EEHB RGB745WEHW RGB790BEKB RGB790CEKC RGB790SEHS RGB790WEKW WB48T10095 AP5665850 2629419 PS6447646 WB48K0001 WB48K0003 WB48K0004 WB48K1. This item is in the category "Home & Garden\Major Appliances\Major Appliances Parts & Accessories\Cooking Appliance Parts".
The seller is "prismparts" and is located in this country: US. This item can be shipped to United States, Canada, United Kingdom, Denmark, Romania, Slovakia, Bulgaria, Czech Republic, Finland, Hungary, Latvia, Lithuania, Malta, Estonia, Australia, Greece, Portugal, Cyprus, Slovenia, Japan, China, Sweden, Korea, South, Indonesia, Taiwan, South Africa, Thailand, Belgium, France, Hong Kong, Ireland, Netherlands, Poland, Spain, Italy, Germany, Austria, Bahamas, Israel, Mexico, New Zealand, Philippines, Singapore, Switzerland, Norway, Saudi Arabia, United Arab Emirates, Qatar, Kuwait, Bahrain, Croatia, Republic of, Malaysia, Brazil, Chile, Colombia, Costa Rica, Dominican Republic, Panama, Trinidad and Tobago, Guatemala, El Salvador, Honduras, Jamaica, Antigua and Barbuda, Aruba, Belize, Dominica, Grenada, Saint Kitts-Nevis, Saint Lucia, Montserrat, Turks and Caicos Islands, Barbados, Bangladesh, Bermuda, Brunei Darussalam, Bolivia, Ecuador, Egypt, French Guiana, Guernsey, Gibraltar, Guadeloupe, Iceland, Jersey, Jordan, Cambodia, Cayman Islands, Liechtenstein, Sri Lanka, Luxembourg, Monaco, Macau, Martinique, Maldives, Nicaragua, Oman, Peru, Pakistan, Paraguay, Reunion, Vietnam, Uruguay.
Part: Baking Rack Assembly Model 0095
Type: Part
Brand: PrismParts
Model: Various