CASIO Watch G-SHOCK Range Man Love The CI Dodd Earth GW-9403KJ-9JR Men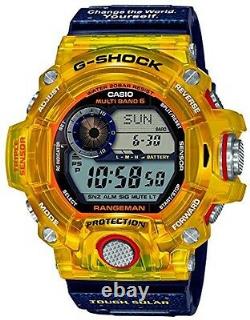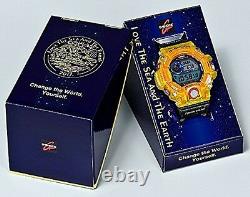 CASIO Watch G-SHOCK G-Shock Range Man Love The Cian Dzi Earth Radio Solar GW-9403KJ-9JR Men's. Urethane / rubber type Belt type. About 14.5 21.5 cm. Full auto calendar, date, day of the week display.
Solar radio clock, direction measurement, barometric / altimeter, thermometer, tide graph. Brand description: G-SHOCK who built a new concept called toughness on the clock.
Everything began with a reckless challenge that overturned the common sense at the time, a developer's faith belief that it would make a timepiece that would not break even if dropped. Over 200 prototypes were repeated, about two years have been spent, completed, the impact resistant structure. It is the birth of technology that is the core of tough. Since then, G - SHOCK has continued evolution without end. Pursue further toughness from every aspect.
G-SHOCK has been collaborating with various environmental groups since the early 1990s and continues to support groups. Under the theme of "Love The Sea And The Earth" in 2017, support "EARTHWATCH" which supports various environmental conservation and research such as extinct crisis ecosystem, ocean biodiversity climate change etc I will continue. This year's model is an image of planktonic tail-line animal "Salpa" said to be useful for removing atmospheric CO2. I expressed the spot pattern seen in the body of Salpa using polarized paint for the band and yellow skeleton resin for the case. The base model adopts a model equipped with a tough solar that drives with naturally friendly sunlight. Also, pressing the light button emerges the EARTHWATCH logo.
On the back cover, the symbol mark of "Love The Sea And The Eart h" is engraved. The package is finished with a design that arranges the color of the dark blue sea and the sarupa spotted ball pattern.
EARTHWATCH was established in Boston, USA in 1971. We are supporting the steady outdoor surveys that require time, funds, and labor, which are carried out throughout the world, both in terms of "funds and hands", and in the volunteer dispatch activity to the field survey, it is the oldest and most It is a trusted international NGO. Support over 100 annual survey projects annually reviewed and certified based on their own strict standards, mobilize more than 4000 volunteers in collaboration with 200 international researchers, manage and manage a series of processes finely ing. Impact Structure Tough Solar (Solar Charging System) 20 ATM water resistant function Radio reception function for 6 stations worldwide: Automatic reception (up to 6 times / day) (China radio is up to 5 times / day) / manual reception, compatible area / Japan · North America region · Europe region · China If you set the home time setting as a receivable city, you will receive stations that match the city.
World Time: 48 time cities (31 time zone, with daylight saving time setting function) + UTC (Coordinated Universal Time) time display Sunrise · sunrise time display Direction measurement function: · Measure angles (0 to 359 °) in 16 azimuth, orientation · Continuous azimuth measurement (60 seconds) · Graphic display of east, west, north and south · Bearing memory (angle of bearing, graphic indicating the direction recorded 1 memory) · Magnetic deflection angle correction function Azimuth correction function Barometric pressure measurement function (measuring range: 260 to 1,100 hPa) · Barometric pressure trend graph display (Displays the past 42 hours) · Barometric difference graphic Barometric pressure trend information alarm (Represented by incoming sound and arrows when characteristic atmospheric pressure change occurs) Altitude measurement function / relative altimeter (measurement range: -700 to 10,000 m) · Advanced memory (Automatic record data: maximum altitude, lowest altitude, cumulative ascending altitude, integrated falling altitude one) · Elevation difference graphics · Altitude difference measurement (-3,000 to 3,000 m) · Measurement interval setting function (every 5 seconds / every 2 minutes) Every 1 second only for the first 3 minutes Temperature measurement function (measurement range: -10 to 60 ° C) Manual memory function: Up to 40 records of altitude, pressure, temperature, direction, time (time stamp function) Stopwatch (1/100 second, 1000 hours total, with split) Timer (set unit: 1 minute, maximum set: 24 hours, measured in 1 second increments) 5 time alarms (with only 1 snooze function) · Time Battery indicator display Power Saving Function (In the dark, save power by turning off the display after a certain period of time elapses) Full auto calendar 12/24 hour display switching Operation sound ON / OFF switching function LED backlight full auto light, super illuminator, afterglow function, afterglow time change (with 1.5 seconds / 3 seconds) Driving time in the state without solar power generation from the time of full charge: in the case of function use / about 8 months, in case of power saving state / about 23 months When radio waves are not received, it operates with normal quartz accuracy (average monthly difference of ± 15 seconds). The altimeter is a relative altimeter that converts atmospheric pressure changes to high altitude. If the atmospheric pressure changes due to weather conditions, the altitude of the measured value also changes. GW - 9400 ___ NEW · Impact Structure Button Guard Cylinder Structure x G - SHOCK First Triple Sensor Ver. 3 Three small sensors measure the bearing, barometric pressure / temperature, altitude fast and accurately and provide necessary information to survive the harsh conditions.
Altitude measurement Temperature / atmospheric pressure measurement Azimuth measurement Direct button that stands for quick and reliable measurement Time stamp button By pressing the button, measurements such as altitude, barometric pressure / temperature, bearing, etc are recorded with time of 40 memories. It can be used for activity records and action plans. [Sensor button] Sensor measurement buttons are consolidated in one place, making it larger.
With one push, you can move to measurement mode immediately. Measurement mode is changed by three types of sounds (Pi / Pipe / Pipe Pi) and it corresponds to mode change by blind operation.
[Stopwatch Button] 1/100 second stopwatch for 1,000 hour continuous measurement. It can measure with a dedicated button and it is useful for survival training and others. Button guard cylinder structure Adopted a new button guard structure that enables smooth and accurate button operation. At the same time it alleviates the shock from the side which is the weak point of the button shaft, the pipe shape serves as a guide, contributing to stability of the button stroke.
The gas shaft is equipped with a gasket, airtightness of 20 ATM waterproof is ensured. Anti Slip Button Knurled processing on large-sized stainless steel buttons, taking care to ensure operation even when wearing gloves or wet with rain. Carbon fiber insert band By inserting carbon fiber excellent in tensile durability into resin, it realizes a tough band which is hard to cut. By making full use of advanced molding technology, it was possible to adopt it for a two-hole type band with high hold feeling.
Full auto super - Illuminator Judging whether it is bright or dark, only when judging it is dark, when you tilt the arm with the clock on it, the display surface will flash automatically. Impact Structure Hollow structure protecting module from external shock, cushioning protection of important parts in module, cushioning direct bezel shape to mitigate direct shock, omnidirectional guard structure, strong structure against drop impact. 20 ATM water resistant function We adopt an airtight structure that corresponds not only to everyday life, but also unexpected bad weather, swimming, skin diving and other activities.
Multiband 6 (Radio reception function) Anti-shock small antenna using amorphous material received high sensitivity of standard time signal with time information, and the time was automatically corrected. In the latest multiband 6, it corresponds to radio waves reception in Japan (2 stations), North America, UK, Germany, China.
Tough Solar (Solar Charging System) Unique solar system that turns even light into power. Adopting a film-like solar cell that is hard to crack, precisely calculate the area of liquid crystal and printing.
By connecting six cells in series, it is designed so that the received light amount of each cell is the same. International Buyers - Please Note.
It might get delay due to weather condition or by some other reason. Please see goods, thank you. I'm Japanese living in JAPAN. Our Products are 100% Authentic! I correspond from the bottom of my heart. If it may not understand, please ask a question always. We will find any item for you. The item "CASIO Watch G-SHOCK Range Man Love The CI Dodd Earth GW-9403KJ-9JR Men" is in sale since Thursday, June 1, 2017. This item is in the category "Jewelry & Watches\Watches, Parts & Accessories\Watches\Wristwatches". The seller is "yosh-set" and is located in KYOTO.
This item can be shipped worldwide.
Brand: CASIO
Department: Unisex Adult
Type: Wristwatch
Model: G-Shock Rangeman
MPN: GW-9403KJ-9JR
Gender: Men's