GIANT Uncanny X-Men 360 issue SET RUN LOT #144-600 RANGE Claremont Byrne KEYS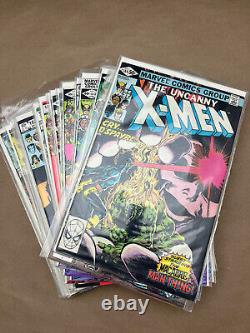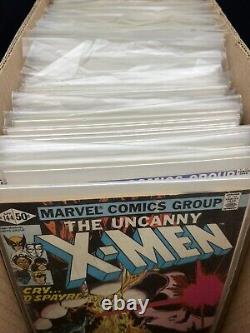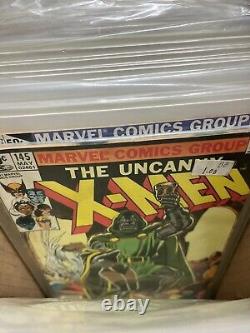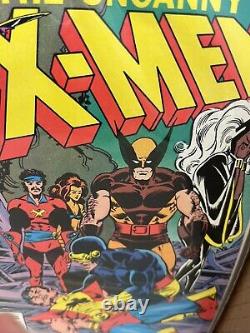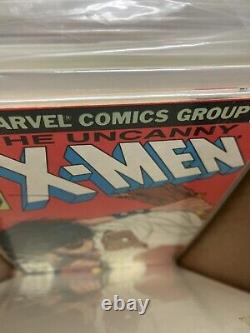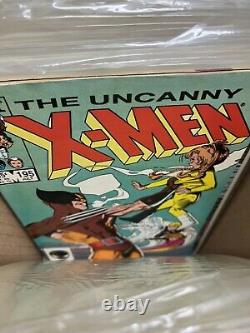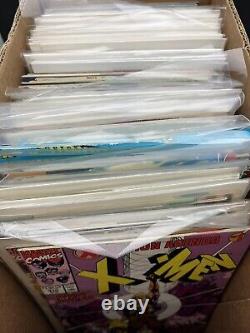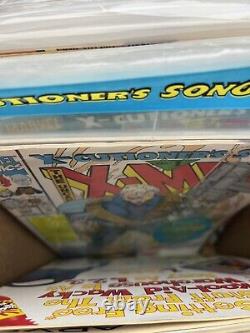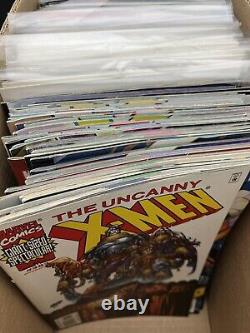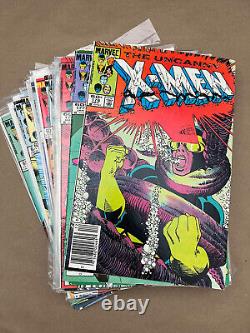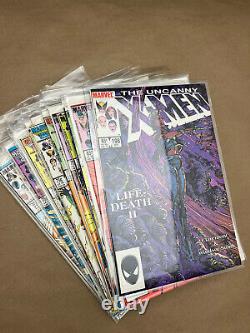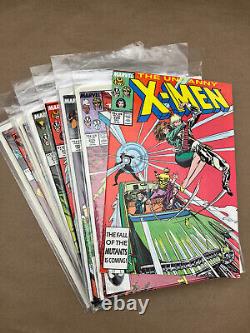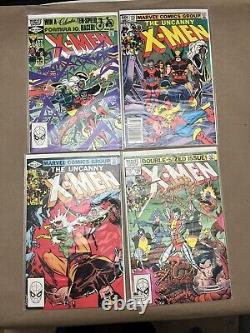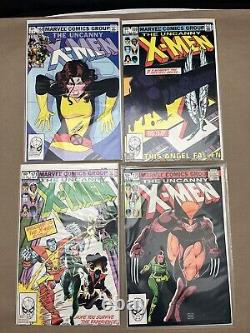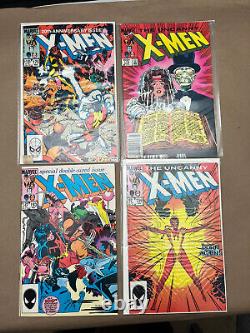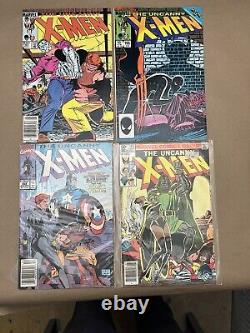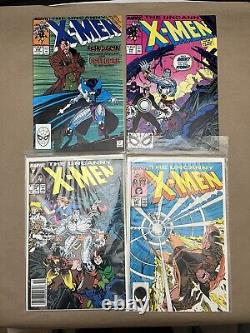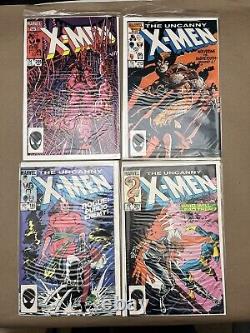 GIANT Uncanny X-Men 360 issue SET RUN LOT #144-600 RANGE Claremont Byrne. 144, 145, 149, 154, 155, 157, 158, 160, 162, 163, 165-217, 221, 223-226, 228-233, 235-265, 267-281, 283, 285-301, 303-318, 321, 323-330, 332-367, 369-385, 394, 396-400, 404-406, 408, 411-417, 419-422, 424-439, 442-445, 448-451, 462-544, 600 (LAST ISSUE). #381 Cover B (Torn Cover).
145 Iconic cover art by Dave Cockrum. 154 Origin of the Summers family: Cyclops, Havok, Corsair. 155 1st team appearance of the Brood, 1st appearance of the Brood Queen.
158 2nd appearance of Rogue, tied with Rom #31 (According to the solicitation catalogs from 1982, both Rom #31 and Uncanny X-Men #158 went on sale March 9th) 160 1st appearance of Illyana Rasputin, Colossus's sister as an adolescent, 1st appearance of S'ym, a demon from the Limbo realm 162 Solo story featuring Wolverine, Debut of Star Sharks aka Space Sharks 163 Origin of Binary, Carol Danvers is subjected to evolutionary enhancements as a host of the Brood alien hatchlings. 166 1st appearance of Lockheed, unnamed until #168, Death of the Brood Queen 168 1st appearance of Madelyne Pryor, later becomes Goblin Queen, First mention of the name Lockheed. 169 1st appearance of Callisto, 1st team appearance of the Morlocks: Masque, Plague and Sunder, Kitty Pryde becomes Ariel. 171 Rogue joins the X-Men, Debut of Illyana Rasputin's Soulsword. 173 Origin of Silver Samurai, Debut of Storm's mohawk and new costume. 175 Marriage of Cyclops and Madelyne Pryor. 176 1st appearance of Valerie Cooper, a government official for mutant regulatory practices, led to the formation of X-Factor. 179 1st appearance of Leech. 183 Battle of Colossus versus the Juggernaut. 184 1st appearance of Forge, Daniel Lone Eagle, a mutant with the ability to comprehend and build nearly anything technological, 1st appearance of Naze, a Cheyenne mystic and mentor to Forge, later revealed to be the Adversary.
185 Storm is stripped of her powers and doesn't regain them until nearly four years later in Uncanny X-Men #226 186 1st cover appearance of Forge. 188 1st cameo appearance of the Adversary, a Native American trickster god. 191 1st appearance of Nimrod, an advanced sentinel from an alternate timeline 193 1st appearance of Firestar in mainstream continuity, previously appeared in the comic book adaptation of the animated series'Spider-Man and His Amazing Friends', James Proudstar appears in the classic Thunderbird costume. 194 1st team appearance of Andrea and Andreas Strucker, the twin children of Baron Von Strucker that comprise the terrorist organization Fenris, Later the twins take on the identities of Swordsman (Thunderbolts) and Songbird, The Strucker family was loosely adapted for'The Gifted' TV show on Fox (2017-19) [January 2021- a fake commercial in WandaVision advertises a brand of watches named'Strucker' a nod to Baron Von Strucker that could also hint at an MCU introduction of the Strucker twins].
196 Controversial issue: in an effort to make a point about the offensiveness of the word'mutie', Kitty Pryde uses an extremely offensive racial slur, uncensored. 199 1st appearance of Rachel Summers as the second Phoenix, The Brotherhood of Evil Mutants becomes the Freedom Force: Mystique, Blob, Destiny, Spiral, Avalanche and Pyro. 200'Trial of Magneto'; Magneto becomes headmaster of Xavier's Academy, Andrea and Andreas Von Strucker become Fenris, a terrorist organization [July 2022 - the X-Men'97 teaser depicts Magneto clothed as shown on this cover].
201 1st appearance of Nathan Summers (Cable) as a baby, son of Scott Summers and Madelyne Pryor. 205 Lady Deathstrike is transformed into her classic cybernetic organism version with claws and adamantium reinforcements. 207 Iconic cover art by John Romita Jr. 208 First mention of the term Omega when referring to the power class of a mutant. 210 1st cameo team appearance of The Marauders: Arclight, Harpoon, Riptide, Vertigo, Scalphunter (now Greycrow) and Scrambler.
211 1st full team appearance of The Marauders: Arclight, Riptide, Vertigo, Harpoon, Scalphunter, Scrambler. Specialty border printed on select covers published in November 1986 celebrating Marvel's 25th Anniversary or more precisely, the 25th year since Fantastic Four #1 was published in November 1961. 212 First battle of Wolverine versus Sabretooth.
213 Betsy Braddock joins the X-Men and adopts the name Psylocke, 1st cameo appearance of Mr. 214 Dazzler joins the X-Men. 215 1st appearance of Stonewall, Super Sabre and Crimson Commando.
221 1st full appearance of Mr. 229 1st team appearance of The Reavers: Pretty Boy, Bonebreaker, Skullbuster, 1st appearance of Tyger Tiger, a crimelord in Madripoor, 1st appearance of Gateway. 235 1st appearance of Genosha. 236 1st appearance of the Genegineer. 239 1st cover and 2nd appearance of Mr.
Sinister, 1st cover appearance and mention of Madelyne Pryor as the Goblin Queen 241 Origin of Madelyne Pryor as the Goblin Queen, Inferno Crossover. 244 1st appearance of Jubilee. 245 Parody issue of DC's'Invasion' limited series, Cameo appearance of Chewbacca, Yoda, Jabba the Hut, Boba Fett, an Alien Xenomorph, E. And Alf, Jean Grey appears full-frontal nude in this issue but it is at a slight distance so that specific detail is absent 248 First published artwork on the X-Men title by Jim Lee.
249 1st appearance of Whiteout, a Savage Land Mutate 250 1st appearance of Worm, a Savage Land inhabitant. 251 Iconic cover art by Marc Silvestri. 253 Storm appears de-aged into a young girl 255 1st appearance of Matsu'o Tsurayaba, a Japanese crimelord.
256 Debut of classic Psylocke costume, 1st appearance of Kwannon, later becomes Revanche. 257 1st appearance of Psylocke as Lady Mandarin, Debut of Psylocke's psychic knife, Debut of Jubilee costume with yellow trenchcoat and shorts in mainstream continuity. 261 1st team appearance of Hardcase and the Harriers: Piston, Timebomb, Blindside, Shotgun, Lifeline Warhawk, Rainbow, and Battleaxe. 267 3rd appearance of Gambit.
268 Iconic cover art by Jim Lee, Revealed that Wolverine, Black Widow and Captain America knew one another in World War II, Origin of first meeting between Captain America and Wolverine. 273 First meeting and battle of Wolverine and Gambit.
281 1st appearance of Trevor Fitzroy. 283 1st full appearance of Bishop, 1st appearance of the Gamemaster, a powerful mutant telepath. 285 1st appearance of Mikhail Rasputin, the brother of Colossus and Magik.
287 Origin of Bishop, specifically the events that led to him time-traveling to the past, Bishop joins the X-Men. 295 X-Cutioner's Song Part Five. 297 Epilogue to X-Cutioner's song, a twelve-issue crossover event. 299 1st appearance of Graydon Creed, son of Sabretooth and anti-mutant activist. 300 1st appearance of Amelia Voght, Introduction of the Legacy Virus.
301 1st full appearance of Siena Blaze, previously featured in a bio in Stryfe's Strike File #1. 303 Death of Magik, afflicted with the mutant-killing Legacy Virus.
305 1st cameo team appearance of The Phalanx, an alien race that infect organic lifeforms with the techno-organic virus [The Phalanx are not seen in this issue but hinted at]. 311 1st cameo appearance of The Phalanx in their true form. 312 1st full team appearance of The Phalanx in their true form. 314 2nd appearance of Shard, sister of Bishop. 316 1st appearance of Monet St.
Croix, later revealed to be Claudette and Nicole St. Croix, merged together to replicate and impersonate their sister Monet who actually first appears as Penance in Generation X #1 and the real Monet in Generation X #40.
317 1st appearance of Blink, a mutant capable of long-distance teleportation, 1st appearance of Skin. 318 1st team appearance of Generation X. 325 Interior panel depicts a man with a newspaper with a headline that reads'Cruz Swipes Again' [Joe Madureira intentionally added these words to express frustration toward fledgling artist, Roger Cruz for swiping panel compositions from other artists for his own]. 327 1st appearance of Joseph, a Magneto Clone.
332 1st appearance of Ozymandias. 333 1st full appearance of Bastion. 345 1st appearance of Maggott.
350 Cover art by Joe Madureira. 366 1st appearance of Astra, a former member of the Brotherhood of Evil Mutants, prior to their introduction to the world. 399 1st appearance of Stacy X, a mutant who can manipulate emotion through pheromones. 411 1st appearance of Annie and Carter Ghazikhanian. 415 Iceman undergoes a mutation.
417 1st appearance of Maximus Lobo. 428 1st appearance of Azazel, Origin of Nightcrawler. 445 1st appearance of The Fury in the mainstream Marvel Universe, previously from the UK adventures of Captain Britain. 450 First meeting and battle of X-23 and Wolverine.
451 First battle X-23 vs X-Men. 462 1st appearance of Sky Captain. 466 1st appearance of Miguel Reyes. 467 1st team appearance of Shi'ar Death Commandos: Blackcloak, Devo, Hypernova, Krait, Offset, Sega, Shell, Warshot. 478 1st appearance of Korvus Rook'shir.
479 1st appearance of the Blade of the Phoenix. 493 1st team appearance of new X-Force roster: Wolverine, X-23, Warpath, Caliban, Hepzibah, Wolfsbane. 509 Iconic Cover art by Greg Land featuring Psylocke. 512 Origin of mutant species. 526 1st appearance of Transonic, the first mutant to gain powers post M-Day after making physical contact with Hope Summers.
527 1st appearance of Velocidad, the second of five mutants to emerge with powers after M-Day. 528 1st appearance of Oya, Idie Okonkwo, a Nigerian mutant and one of the Five Lights. 529 1st appearance of Primal, one of the first mutants to emerge after M-Day. 532 Cover art by Greg Land featuring Emma Frost. 452 Colossus becomes the Juggernaut.
543 Cover appearance of Colossus with the powers of Juggernaut, blessed by Cyttorak. 544 Final issue, series finale. Also includes the following Tie-In Books. Heroic Age Uncanny X-Men #1 (one-shot).
1 Uncanny X-Men #534.1. X-Men Messiah Complex #1 (one-shot). Dark Avengers/Uncanny X-Men #1 (Utopia Chapter 1) (Second Printing).
Dark Avengers #7 (Utopia Chapter 3). Dark Avengers #8 (Utopia Chapter 5). Please see photos for condition - So Many Comics - Happy to Photograph specific issues. Just let me know which ones you would like to see. Many in Bag and Board!
Any questions please let me know. Currently listing runs from two huge collections of early 2000's comics from DC, Marvel, Top Cow, Image and More! Always listing rare and hard to find comics, books and oddities.